All the basics for shorter trips
By Durant and Cheryl Imboden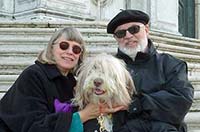 QuickVenice.com is a simplified, streamlined companion site to Venice for Visitors, which PC Magazine has called "the premier visitors' site for Venice, Italy." (Venice for Visitors has offered unbiased advice to millions of travelers since 1997.)
On QuickVenice, we've stripped our trip-planning information down to the essentials, with links to other resources (including in-depth articles at Veniceforvisitors.com) when appropriate.
All QuickVenice pages use a responsive layout for fast loading and easy reading on desktop computers, laptops, tablets, and smartphones.
We welcome feedback by e-mail, and who knows--maybe you'll encounter us in the streets of Venice, as other readers have done!
Privacy policy:
We don't track you. We don't even know how to track you. (We're editorial types, not programmers or marketing mavens.)
Statements and disclosures:
QuickVenice is an editorial site, not a promotional or commerce site.
We don't publish "sponsored content" or sell text links.
We finance this site mostly with commissions from Booking.com hotel reservations. (See our QuickVenice Hotel Guide.) We emphasize hotels that are easy to reach on foot, by public transportation, or by airport boat.

We also earn occasional small commissions on Viator tours and transfers that are booked through affiliate lilnks.