By Durant Imboden
In this section, we'll give you the high points of what to see as you walk around Venice, plus advice on guided tours.
Central Venice is only about twice the size of New York's Central Park, so walking is easy if you don't mind small footbridges.
For more ideas, see "Venice's Top 11 Free Sights" at our in-depth companion site, Veniceforvisitors.com.
Three "don't miss" sights:
Venice by district (sestiere):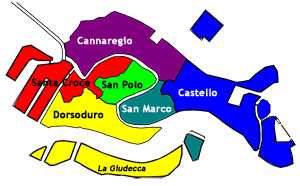 Click here for a larger map.
Islands of the Lagoon:
More sightseeing:
Tips:
Map credit: See source page with license information.