Go exploring, or take a guided tour.
By Durant Imboden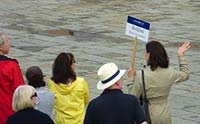 In many cases, the best tour of Venice is no tour at all.
Unless you're unable to walk or are pressed for time, we suggest that you simply:
Buy a good map. (See our recommendations in Venice for Pedestrians.)
Visit the "must see" sights (Piazza San Marco, Rialto Bridge, and Grand Canal).
Escape the crowds and go exploring on your own.
Our descriptions of Venice's six sestieri or districts will help you start wandering. If you get lost, no problem: Venice is compact, and every unplanned turn leads to a serendipitous surprise.
If you need (or want) a group tour:
Our tour partner, Viator, offers dozens of tours and activities--everything from a "Cicchetti and wine food tour" and a "Venice ghost walking tour" to regional day trips or a Venice Gondola School rowing lesson. For tour listings, see:

Private tours:
These tend to be more expensive than Viator's tours, but they're also more personal and can be customized to your tastes:

On the water or in the air: