Transportation, history, and lively squares
By Durant Imboden
---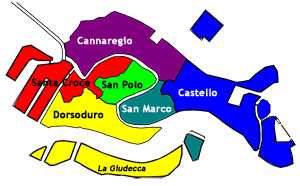 Within the boundaries of Santa Croce are the Tronchetto parking garage, the airport buses and People Mover in Piazzale Roma, the Santa Lucia railroad station, and the Marittima cruise terminals.
This makes it easy to dismiss the sestiere as a transportation hub, but don't be deceived: Santa Croce has its share of delightful squares, museums, and churches.
Best of all, the district is easy to reach as you walk to or from taxis, buses, trains, or cruise ships.
A few things to see in Santa Croce:
Don't miss the Campo Santa Giacomo dall'Orio and its church. (The latter has a 14th Century "ship's keel" roof.)

If you're hungry or thirsty, look for the Majer bakery-deli in the row of shops on the Calle Larga, east of the Co-op supermarket.
Take a break from walking in the Campo San Simeon Grande (on some maps, San Simeon Profeta). The quiet little square faces the Grand Canal, has park benches, and offers great views of passing boat traffic.
Work your way east to San Polo and the Rialto Bridge, tracing the rabbit's warren of tiny streets and squares until you wonder if you'll ever find your way back to civilization.