Tourists, monuments, and more
By Durant Imboden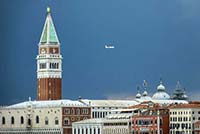 ---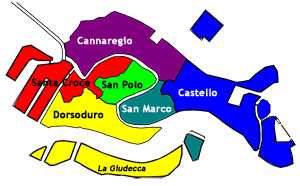 San Marco is the tourist center of Venice.
The streets around the Piazza San Marco are packed with hotels, restaurants, bars, shops, and--on weekends or during high season--daytrippers and tour groups.
Still, there's more to San Marco than tourism: It was the Venetian Republic's seat of government for a thousand years, and it still houses many government offices and banks.
A few things to see in San Marco:
Try to visit the Piazza San Marco early or late in the day, preferably during the week if you dislike crowds.

See the Basilica (and possibly the Campanile and the Doge's Palace if you have time).
Go window-shopping in the Calle Vallaresso and the Calle Larga 22. Marzo, which are littered with upscale names like Missoni, Prada, Gucci, Bottega Veneta, and Frette.
Head down the narrow mercerie (shopping streets) north of the Piazza on the way to the Rialto Bridge.

Here, you'll find smaller shops that sell everything from Venetian masks to food, jewelry, and clothing.
Visit a few of the many churches in the San Marco district.
Walk to the Accademia Bridge via the Campo San Stefano, one of the city's larger and livelier squares.

From here, it's a two-minute walk to Dorsoduro on the opposite bank of the Grand Canal.
Walk to the waterfront by the Doge's Palace, turn left, and cross the footbridge to Riva degli Schiavoni in Castello.