100 islands, 100 churches
By Durant Imboden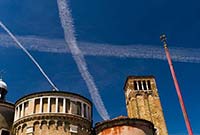 Venice has been described as a city of "100 islands with 100 churches." In reality, the numbers are even higher:
The historic center is made up of 118 islands with 118 churches, and there are nearly two dozen more churches on the islands of the Lagoon.
Many of the churches are interesting to visit--briefly, or at leisure-- whether or not you're Christian or infatuated with church art.
Churches with no admission fees:
Most churches are open without charge--among them, the two churches that tourists are most likely to visit:
Basilica di San Marco (see Piazza San Marco)
Basilica di Santa Maria della Salute on the Grand Canal near the tip of Dorsoduro.
At churches without admission charges, you can simply walk in and wander around at will. Donations are always welcome.
Note: In most churches, tourist visits are discouraged during religious services.
Chorus Pass churches:
Some churches do charge modest admission fees.
Sixteen of Venice's leading churches have formed the Chorus Association, which uses admission revenues to finance preservation and restoration work.
The association offers a "Chorus Pass" that gives access to all 16 participating churches. The pass is valid for one year, and it's worth buying if you plan to visit more than three churches.
For details, see the association's Chorus Pass information page.
Note: You can buy the the pass online or at any Chorus Association church.
Venice's most complete church guide:
Jeff Cotton of London, England has produced a remarkably thorough guide that describes each of Venice's churches, with practical information for visitors. See: