Local life and Europe's oldest Ghetto
By Durant Imboden
---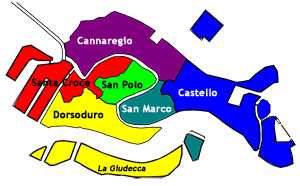 Cannaregio occupies the northwestern section of Venice's centro storico.
The main pedestrian thoroughfare through the sestiere is called the Strada Nova, or "New Street." (You'll walk along it if you're headed from the railroad station to the Piazza San Marco.)
The Strada Nova is a wide, busy street with mobs of tourists, locals, and middle-class shops. But walk to the north or south of the Strada Nova, and you'll find quiet residential neighborhoods that attract relatively few visitors.
A few things to see in Cannaregio:
The Jewish Ghetto is the oldest in Europe. It has five synagogues, a Jewish museum, and several kosher inns and restaurants.
The long, wide, sunny canals in the northern half of the sestiere contrast sharply with the narrow, medieval canals and streets in much of the historic center. They're easy to reach via the footbridge on the north side of the Ghetto.
The Fondamenta Nuove (spelled "Fondamente Nove" in local dialect) is a long series of waterfront walks facing the northern part of the Venetian Lagoon. On a clear day, you can see the Italian Alps.
The church of Madonna dell'Orto was the parish church of Tintoretto, one of Venice's most famous painters. It's filled with the artist's works.
The church of Santa Maria dei Miracoli, near Cannaregio's border with Castello, may be Venice's favorite wedding church. (It's certainly one of the prettiest.)