In Venice, most travel is on foot.
By Durant Imboden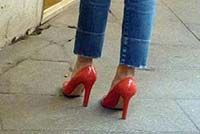 Venice may be famous for its water buses and gondolas, but walking is often the quickest way to get from place to place.
Fortunately, the city's historic center is compact, there are no hills, and the pavement is flat and smooth.
The only obstacles are the 400+ footbridges (most of them small) and the occasional flooding known as acqua alta.
Our advice for pedestrians:
Buy a good map--preferably with a scale of 1:4500 to 1:5500. (We like the moisture- and tear-resistant maps from Touring Editore and Istituto Geographico DeAgostini.)
When using online maps with your smartphone or tablet, don't take labels literally. (Locations of restaurants, hotels, museums, etc. are often incorrect.)
Wear comfortable shoes. (From October to March or April, don't wear your most expensive shoes, because they may get wet if you wade through flooded streets.)
Look for directional signs (usually yellow, sometimes white) that identify major destinations such as "San Marco," "Rialto," "Accademia," "Ferrovia" (the train station), and "Piazzale Roma."
Be aware that local signs are often in Venetian dialect instead of the Italian that you're likely to see on maps. (Usually this isn't a problem, but a few translations may cause confusion, such as "Zanipolo" for "Giovanni e Paolo.")
Don't worry about getting lost. Venice is small, and you can't go too far astray without reaching water.
Tips for slow walkers:
Avoid the large, steep bridges over the Grand Canal (Accademia, Rialto, Scalzi, and Calatrava).
During peak season, try to avoid the busiest walking routes. (Back streets will be quieter and less stressful.)
When you're tired of walking, ride vaporetti--such as the No. 1 and No. 2 water buses--that have flat decks and no steps.)
In-depth information at Venice for Visitors: