Unlimited public transportation for 1 to 7 days
By Durant Imboden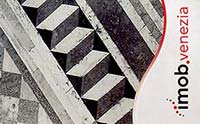 Venice's standard single-journey vaporetto fares are obscenely high, but there is a way to limit the damage:
Buy a one- to seven-day Tourist Travel Card, which allows unlimited travel on nearly all ACTV land and water services (not including the airport, but see "airport transportation" below).
You can buy a card at any ACTV/Hellovenezia ticket office or mulililngual self-service ticket machine.
The card will be activated (and the clock will begin ticking down) the first time you swipe the card against an electronic ticket reader at a vaporetto station or on a land bus.
Prices:
 One day:       €20,--
Two days:      €30,--
Three days:   €40,--
Seven days:  €60,--
Airport transportation:
For an extra €6 (one-way) or €12 (round-trip), you can travel between Venice Marco Polo Airport and the city with your Tourist Travel Card by ACTV land bus.
At the airport, buy your ticket at the Public Transport counter in the arrivals hall, and look for the No. 5 "Aerobus" to Venice's Piazzale Roma at the curb outside the terminal doors.
Rolling Venice (ages 14-29):
You can get an even better deal if you're 14 to 29 years of age:

The Rolling Venice Card is valid for 3 days of unlimited ACTV boat and bus travel within the city (not including the airport). Total cost for the stored-value card plus transportation is €28 (€6 for the Rolling Venice ID card and €22 for transportation). For a few euros more, you can include airport transportation on ACTV's "Aerobus.".
Buy Rolling Venice at any Hellovenezia ticket office or booth.
Venezia Unica city pass (for longer stays):
The Venezia Unica electronic stored-value card will cost you €40 just for the empty card.

However, the card is valid for five years and lets you buy single fares, "carnets" of 10 rides, and commuter passes at cheap resident rates. It's a great value if you come to Venice often or are staying in the city for a month or two.
In-depth articles at Venice for Visitors: