Venice's top tour bargain: a boat trip on the Grand Canal
By Durant Imboden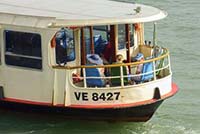 The most scenic boat ride in Venice is aboard the Linea Uno (No. 1) vaporetto.
This popular ACTV public water bus runs from the bus and taxi gateway of Piazzale Roma to the Ferrovia or Santa Lucia Railway Station and on up the Grand Canal.
Boats leave the Piazzale Roma every 10 minutes during most of the day, or every 20 minutes after 9:40 p.m.
Travel time from Piazzale Roma to San Zaccaria (just above the Piazza San Marco) is about 40 minutes.
Along the way, you'll zig-zag across the Canal Grande, pass under the Rialto and Accademia Bridges, call at more than a dozen ACTV vaporetto stops, and enjoy views of (and often into) the historic palaces that face the water.
When and how to ride:
To avoid crowds, try to take the No. 1 vaporetto in the evening. Start at the Piazzale Roma. (Late in the day, commuters and daytrippers are mostly coming toward the Piazzale Roma.)

On older water buses, sit in the open bow. If you're on a newer water bus without bow seating, or if it's raining, walk back through the enclosed passenger compartment to the covered open-air seats in the stern.

To enjoy a longer trip, stay on the boat until you reach Giardini or Sant'Elena (near the tip of the historic center). Then walk back along the waterfront to the Piazza San Marco or to your hotel.

For the best views and the most atmosphere, ride after dark.
Buying and validating tickets:
Buy single-journey tickets or Tourist Travel Cards from the Hellovenezia ticket counters or the multilingual self-service ticket machines at Piazzale Roma.
After you've bought your ticket, look for the platform labeled with a circled numeral "1."
Important: Validate your ticket with the electronic ticket reader at the boat stop before boarding the water bus.