See Venice by chauffered rowboat.
By Durant Imboden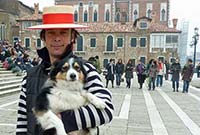 Can you enjoy a trip to Venice without hiring a gondola? Of course. But if a private boat ride is on your bucket list, read our tips before hitting the water:
Bring plenty of cash.
The official daytime gondola rate is €80 for a 40-minute ride, plus €40 for each additional 20 minutes.
From 7 p.m. to 8 a.m., the official rate goes up to €100 for the first 40 minutes plus €50 for each additional 20 minutes.
Gondolas accomodate up to six people, so you can reduce the cost per person by sharing a ride with family or friends.
Pick the right location.
You can ride gondolas in St. Mark's Basin (near the Piazza San Marco), at various points along the Grand Canal, or in the quiet side canals of Venice.
We prefer the quiet side canals, which offer a smoother, more peaceful ride with constantly-changing views.
Book a ride on the spot.
As you walk around Venice, you'll pass many gondola stations, and you'll often encounter gondoliers who politely inquire "Gondola?" as you walk by.
Simply indicate your interest and confirm or negotiate a rate.

(The gondolier may try to deviate from the official rate, so make sure you've agreed on the price and length of the ride before you board the boat.)
Don't expect a singing gondolier.
In-depth articles at Venice for Visitors:
Also see: