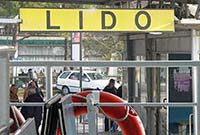 Venice's resort island attracts visitors year-round.
By Durant Imboden
The Lido di Venezia is a narrow barrier island of about 11 km (7 miles) in length that separates the Venetian Lagoon from the Adriatic Sea.
The Lido is a popular summer beach resort, but it's also a dormitory suburb that attracts visitors throughout the year with affordable hotel rates and proximity to the city center.
Hotels
The Lido has hotels and B&Bs in all price categories, and rates tend to be noticeably lower than in Venice's centro storico.
If you're primarily interested in using the Lido as a base for a Venice trip, we recommend choosing a hotel in the island's center, near the Lido S.M.E. waterbus stop.
If you're more interested in a summer beach vacation, you might want to try a villa or resort hotel.
For hotel listings in a mobile-friendly format, see our QuickVenice Lido hotels page.
Transportation
The Lido's transportation hub is the Lido Santa Maria Elisabetta ACTV station.

Lido S.M.E. is served by Alilaguna airport boats, the No.1 vaporetto line, and several other waterbus lines (5.1, 5.2, 6, 10, 14, 14L,15, and N). From the station, you can easily walk to hotels in the island's center.
From the airport, use Alilaguna's Linea Blu (year-round) or the seasonal Linea Rossa (late April through October). Linea Blu also runs between the Lido and the Marittima cruise piers.
If you're bringing a car, motorcycle, or bicycle, you'll need to take the expensive No. 17 car ferry from Venice's Tronchetto parking island to Lido San Nicolò, which is slightly north of Lido S.M.E.
To reach Venice's historic center, you can catch any of the ACTV water buses that run from Lido S.M.E., depending on your destination.

We recommend the No. 1 vaporetto for most purposes: It will take you to the Piazza San Marco and down the Grand Canal to the Rialto Bridge, the main railway station, and the buses and taxis at Piazzale Roma.
In-depth information at Venice for Visitors: