Combine a cruise with a Venice vacation.
By Durant Imboden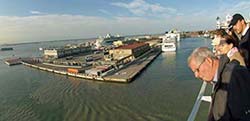 More than a dozen ocean- and river-cruising lines offer roundtrip cruises from Venice. You can always travel roundtrip to Greece from Venice, or vice-versa, aboard a car-passenger ferry.
Such cruises make it easy to combine a Venice trip with a cruise. In some cases, you may even save money by flying in and out of the same airport.
For a detailed article (with links to cruise lines and our Venice-to-Venice-cruise reviews), see "Roundtrip Cruises from Venice" at our parent site, Venice for Visitors.